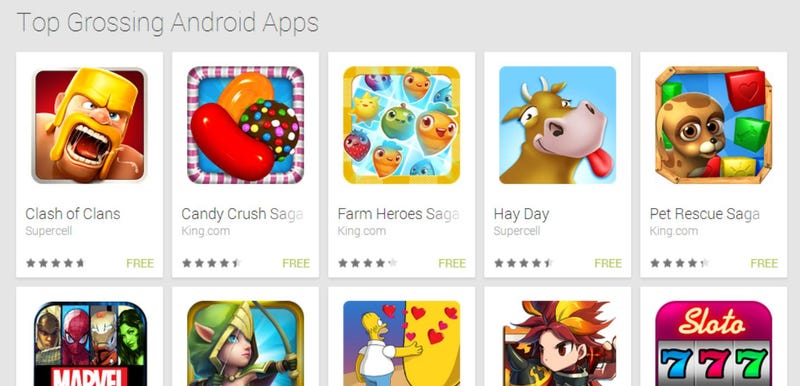 Seeing the list of "free" games on the Top Grossing list should serve as a reminder. A warning. BEWARE! THERE IS CRAP AFLOAT!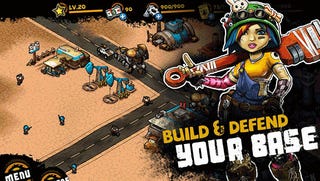 The Problem
Addicting time sinks that keep you occupied might be enjoyable and even, dare I say, fun, for a while. You're making progress! You're getting stuff done! You're building things! However, if you have spent much more time with blockbuster free games like Clash of Clans and its devil spawn you'll find longer cool down periods meant to urge to pay just a few pennies to skip that 5 hour build time for your base upgrade. While the happiness drugs that your brain feels for that instant satisfaction may be nice, there is a (financial) cost. The masses have pushed the crap to the top of the store's charts and inspired countless ripoffs of dumb, but high grossing games.
Perhaps the best example of this is the evil machinations of Dungeon Keeper, which has been panned over the past few weeks as a masterwork for its malicious use of psychology. If you missed some of the coverage it got in the gaming press, here's a recap:
Straight up rigged the Google Play rating system
Removed strategy/skill in favor of a grind or pay to improve
Used up a brand name that is steeped in nostalgia
My hope is that Google will be able to implement a Play store structure that has better filters and tags to allow you to find quality apps and games without relying on how much money an app has swindled as a measure of how popular it is. In order to find a non free-to-play game on the top earners list, you have to drop down to Minecraft at #20. Next paid app on the list is all the way at #118. It is noted that not all of these free games are bad, per se. There are some quality, ad supported games there that you, nor anyone, should have a problem with.
How to Proceed
While I'm sure that we have not seen the end of the monetization model, there should be better tools for sifting through the app stores. Google has the chops to make their store better by allowing the user more options for sorting and finding new apps. Until that improves, here's how I plan to proceed.
Use this list instead. I'm all for being frugal, but the best way to promote responsible apps is to buy reasonably priced, quality apps and support the good devs.
The Official huh989 Wishlist
For people to be willing to pay top dollar for quality mobile games and support apps that charge fairly for the time and skill that went into making them.
For people to stop falling for free-to-play hijinks. The financial success of such game companies will breed more future crap.
For better sorting and content finding tools in the app stores. My biggest desire is for a box that hides all apps with in app purchases. That would be amazing.
World peace
/rant